Alpha Performance (AMS) Downpipes (Macan)
Designed to Fit
2015 - 2018 Porsche Macan S
2015 - 2019 Porsche Macan Turbo
2017 - 2019 Porsche Macan GTS
NOTE - This product has been discontinued. We recommend the Fabspeed Downpipes. 
Product Details
The Porsche Macan's two factory downpipes are extremely restrictive. Our Engineers designed the Alpha Performance Porsche Macan Turbo downpipes to expel the large amount of air our Alpha filters were now bringing in. They utilized the powerful Solidworks Software program to design less restrictive transitions for the hot exhaust gasses. The creation of smoother organic transitions allows exhaust gases to flow more efficiently which lets your turbos spool quicker, delivering power, faster. Our Alpha Downpipes' over 76mm diameter is 44% more area than the stock 63.5mm stock downpipes. With the end user in mind our Engineers designed the downpipes to bolt to OEM location with no cutting, drilling, or 02 sensor wire extensions. The Alpha Downpipes also were designed with heat management in mind.
The Alpha Downpipes also feature laser cut heat shielding and a high flow Gesi catalytic converter which increases flow without compromising emissions or producing check engine light. If you have ever been under the hood of a modern automobile you know the amount of unused space is next to nothing. Heat management, therefore, is a major concern. The Alpha Performance Downpipes give you piece of mind that any critical components in the engine bay will be protected by our custom laser cut heat shielding.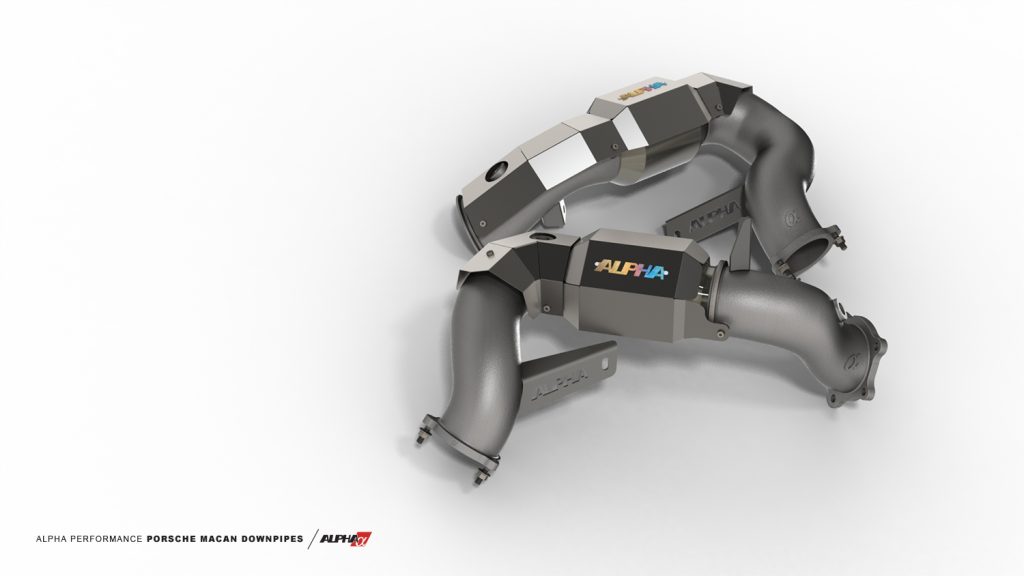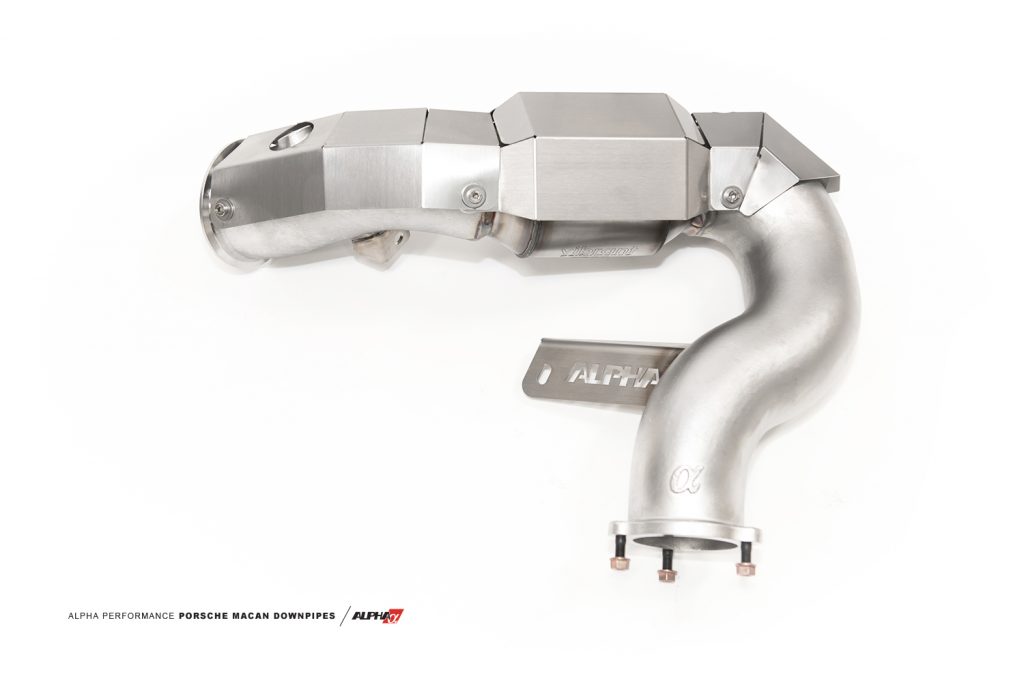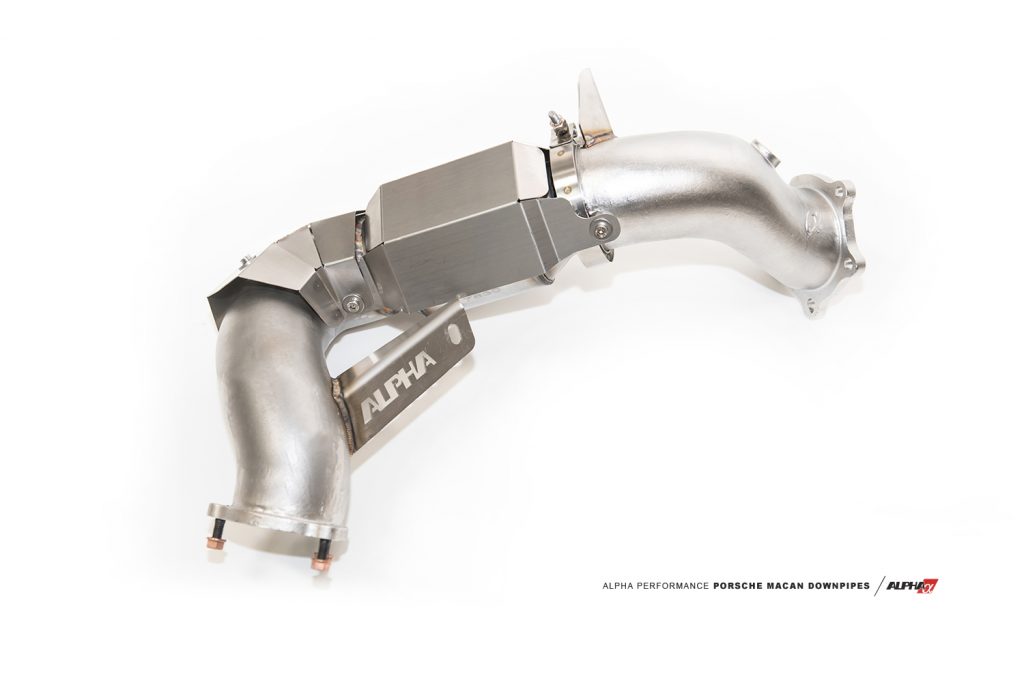 Features
---
Smoother transition of hot exhaust gasses allows for turbo to spool faster delivering power faster.
Bolts to OEM location with no cutting, drilling, or 02 sensor wire extensions.
High flow Gesi catalytic converter increases flow without compromising emissions.
Alpha Macan Downpipes can be installed without removing manifolds.
Organic castings maximize space and reduce bends that hinder exhaust gas flow.
Laser Cut Heat shields safely keep heat from unibody.
Product Notes
---
44% More Area in AMS' 76.2mm Diameter over the stock 63.5mm Downpipes
No Check Engine light with GESI Catted Downpipes
About Alpha Performance (AMS)
At AMS they specialize in automotive performance for Japanese and German turbocharged vehicles. They offer engine computer tuning (calibration), repairs and maintenance and most importantly engine and other driveline modifications.
First and foremost AMS is an engineering company. Unlike other shops their parts are engineered to be the best performing you can buy.  Most shops in the industry have a basic understanding of engine performance but at AMS we take it far past that using computer aided designs and mechanical engineers with years of motorsports experience.
AMS and its sister brand Alpha Performance have been at the top of the game for 15 years. From turn-key packages to individual components we can meet and exceed all kinds of performance goals. From drag racing to road racing to spirited driving on the streets, let AMS enhance your driving experience!
Mission Statement
The goal of AMS is to provide the highest quality, best performing products available. By utilizing research and development and rigorous testing programs AMS will never compromise the quality or performance of their products.
In addition AMS will only provide the finest customer service offering only advice and parts that are in the best interest of the customer.
AMS was built on a foundation of integrity. This is who they are. This is what you can count on.