Elephant Racing Solid Subframe Bushings (997)
Designed to Fit
2005 - 2012 Porsche 911 (all 997 except GT3)
1999 - 2005 Porsche 911 (all 996 except GT3)
Product Details
This Rear Subframe Solid Bushing kit improves handling and precision by providing geometry correction for lowered cars and eliminating deflection. Porsche recognizes these performance benefits and uses a similar solid rear subframe mounting approach on the latest GT3 street and Cup racecars.
Replaces stock rubber bushings in the rear subframe of the Porsche 996 and 997 cars, raising the subframe into the chassis 6.5mm (.25 inch).
Geometry Correction
Lowering the 996/997 provides the benefits of lower center of gravity and improved appearance. Unfortunately lowering also causes the rear suspension members to angle down as the inner links drop with the chassis and the outer links remain at wheel upright height. This downward angle harms performance.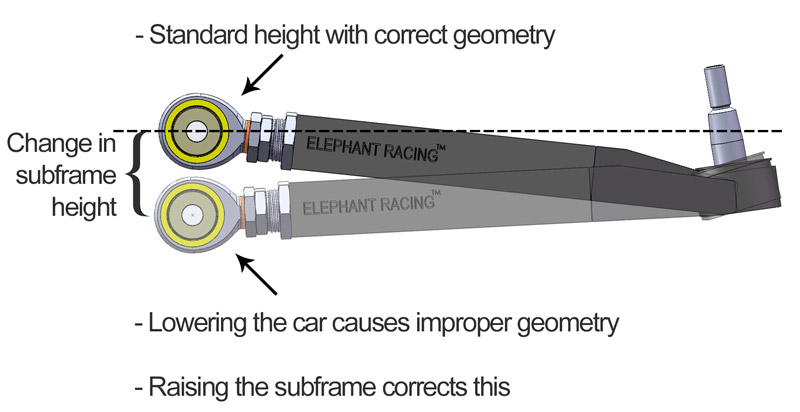 With the suspension members angling up towards the wheel the Roll Center is lowered which causes increased chassis lean, toe and camber curves are shifted and become less optimal, static toe and camber adjustments are shifted often exceeding the range of the stock adjusters.
Our kit raises the rear subframe .25 inches (6.5mm) to help reverse the negative effects of lowering. Suspension member angles are improved and performance is enhanced. Our upper bushing fits inside the subframe, eliminating the entire thickness of the upper rubber bushing for the greatest possible geometry correction achievable from bushings alone.
Eliminate Deflection
Stock rubber bushings compress and deform under heavy cornering, braking, and acceleration loads. The compliant rubber bushings allow the entire rear subframe shift about relative to the chassis. Rear camber and toe settings wander along with the subframe making the car less predictable, less stable in turns.
Our solid bushings replace the compliant rubber and do not deform under cornering loads, keeping the subframe in position and alignment true even under heavy cornering loads. The car becomes more predictable and easier to drive fast.
Build Quality
Each bushing consists of two pieces, an upper plug and lower puck. The plug is machined from solid aluminum with knurled edges for perfect fit.
Lower puck is machined from solid steel with zinc finish for protection.
Resources
About Elephant Racing 
Suspension Science, Made Easy
Elephant Racing is the established global leader in design and manufacture of performance suspension products for Porsche cars.
Silicon Valley is the new center of automotive technology, electric, and autonomous cars. Elephant Racing is the Silicon Valley approach applied to automotive suspension products. Our business model is built around web enablement, sophisticated engineering tools, and the development of advanced automotive suspension technology
ER's 10,000 sqft R&D facility is located in Santa Clara, California USA. It is fully equipped with 3D CAD, testing, simulation and modeling tools, complete auto shop, and machine tools for development and prototyping. Building on our base of performance Porsche suspension technology, our areas of development focus include the following:
Interactive and semi-active suspension control
Advanced damper technology
Automotive Suspension Mechatronics
Web enablement and Web tools
They hold patent in the category of suspension bushing design and are pursuing further patents in damper and semi-active suspension control technology.
Founded in 2002, their innovation, continuously expanding product line, dedication to customer service, and global distribution has made Elephant Racing the leader in performance suspension for Porsche cars.