do88 - Y-Pipe (991 Turbo)
Designed to fit
2014 - 2019 Porsche 911 Turbo / Turbo S (991.1 & 991.2)
Product Details
We are proud to present our newly developed Y-pipe kit for 991 Turbos! With this extreme high flow Y-pipe kit the performance of your 991 will increase!
Much larger inner diameter for improved air flow, 58 % higher! (see diagram below). 

Made of 2,5" (63mm) mandrel bent aluminium pipes.

The pipe has two methanol injection connections (1/8 -27 NPT). The pipe is delivered with blanking plugs in these connections.

Smooth flow cast collector part.

Smooth internal surface for best air flow.

Comes with high quality silicone hoses and accessories for installation.
In the beginning of the development process of this product we spent a lot of time thinking what would be the preferred way to build a Y-pipe and here is the result of our conclusions and development process! Our pipe have both a very good flow rate and a low weight which is accommodated by composing mandrel bent lightweight pipes with a high quality 3D freeform designed cast joint between them. Onto the cast part we then welded CNC-machined connections for bov and breather hoses.
This construction adds a lot of performance but only a tad of extra weight.

The pipes are then finished in a high quality powder coat that makes them look as good as they perform! You can choose between the more discrete semi gloss black and a fresh silver metallic finish.

The kit also includes 2 high quality custom designed silicone hoses which is available in two different versions. Which version you need depends on if you will install the y-pipe together with the OEM intercoolers or the do88 performance intercoolers. You can make your choice of hoses in the drop list above.

When it comes to air flow performance our Y-pipe totally outperform the OEM Y-pipe by 58% increased flow at the same pressure drop!

Be aware of that the OEM parts was designed for the power level the car was built for originally. A power increase may cause your stock Y pipe to hold back the power of your engine. So even on an engine with a software tune the do88 performance Y-pipw will give a performance increase over the OEM Y-pipe!

do88 performance Y-pipe comes as a complete package with all parts necessary for installation.

Resources:
This diagram shows the air flow at different pressure drops of do88 Y-pipe compared to the OEM: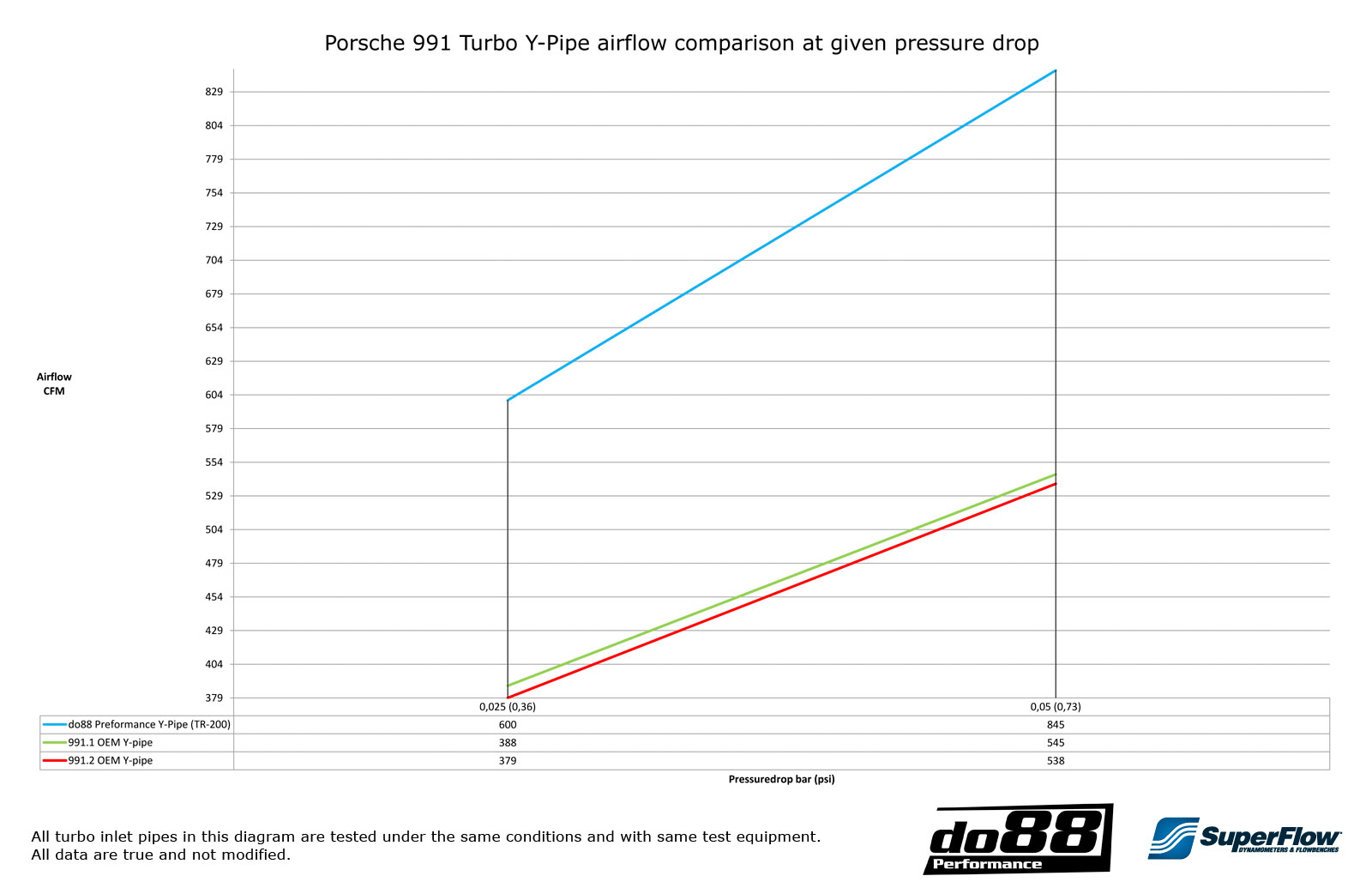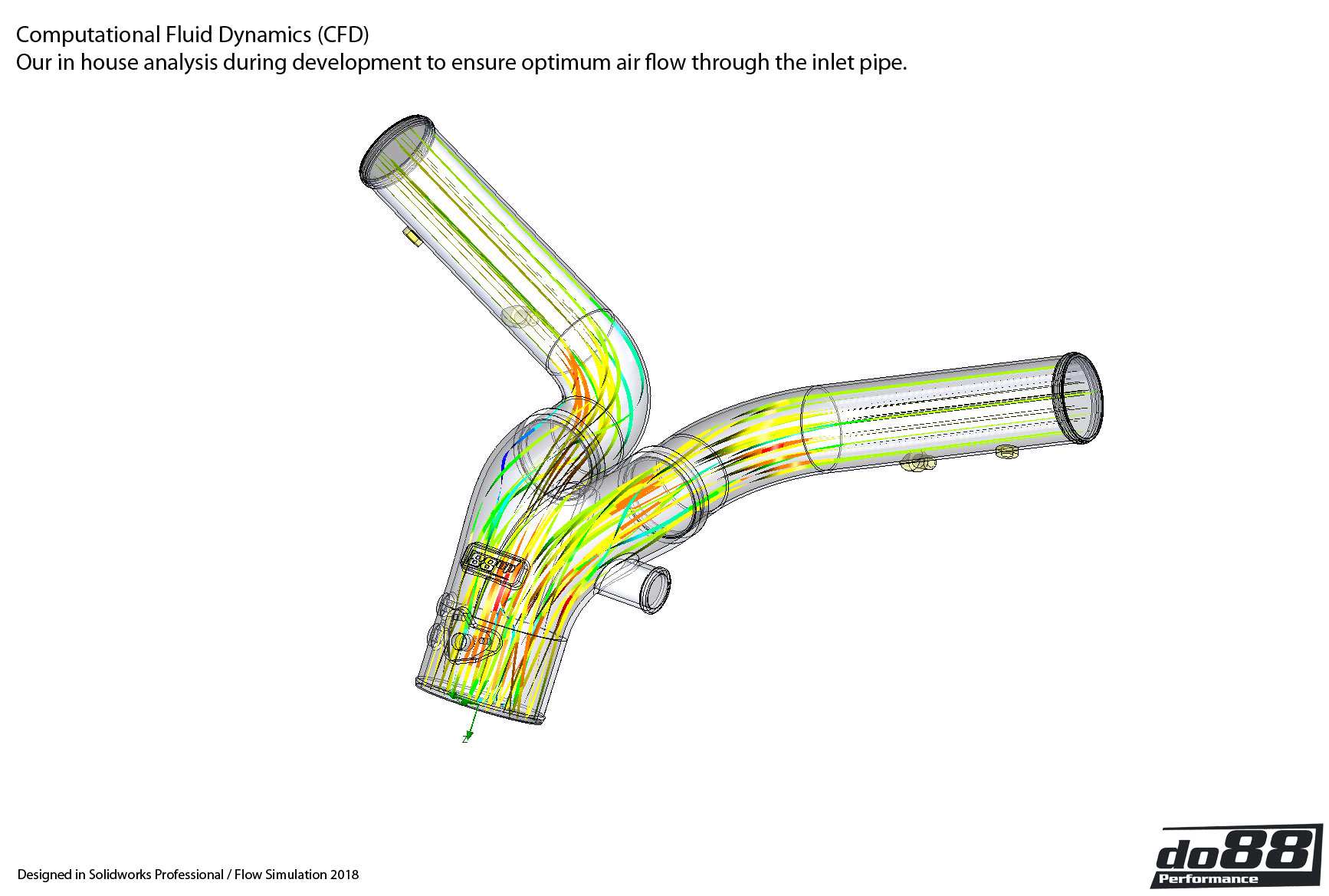 About do88
We are a relatively small company, based and rooted in Nykvarn, Sweden. Starting off in 2007 selling universal silicone hoses, we have grown step by step. To our awareness, we are at this point perhaps the largest silicone hose distributor in the entire northern hemisphere, keeping everything in stock and shipping worldwide. This is our root and core. Being Swedes, we have put a lot of effort in Saab and Volvo over the years, but off course our interest and ambitions are bigger than that. Today we have 170 various silicone hose kits (and counting), model adapted intercoolers, oil coolers, radiators and so on. Everything, yes everything, is developed by us and sold by our criteria.
Naturally, we have several of related articles as well. Plastic connections, aluminum piping, high quality stainless hose clamps, heat protection, air filters, BOV:s from the prestigious GFB and much more. We are seeking to be the natural decision on where to turn your attention building anything related to automotive cooling, industrial cooling and more.
I you feel like contacting us, please do! At your service is our confidant staff with good product knowledge. This company emerged as a counterbalance to lousy customer support. That is not us. We are here to help you.