Cobb Tuning Access Port V3 (Macan 95B.2 / 95B.3)
Designed to fit
2019 - 2023 Porsche Macan S (USDM)

2020 - 2023 Porsche GTS (USDM)

2020 - 2021 Porsche Macan Turbo (USDM)
Product Details
The Accessport V3 is the world's best selling, most flexible ECU upgrade solution for Porsche. Unlock power hidden within the vehicle by replacing conservative factory settings with more aggressive calibrations. Upgrade forever with off-the-shelf (OTS) calibrations for most bolt-on modifications. The new in-cabin mountable Accessport V3 has a large, full color, higher resolution screen which allows you to monitor up to six parameters in real time. Fully customizable from the look (multiple bezel colors), layout (set up a race, street or dyno gauge cluster) and mounting options (choose from 1,000s of standard vehicle mounts). Of course, all of the great COBB tuning is included - with enough space for 100 calibrations. 
Key Features:
Comes pre-loaded with Stage 1 map
Everything required is included for simple installation
Easy to follow on-screen prompts help you identify your vehicle and available maps
Revert your ECU back to the way it was pre-software with the AccessPort
Read and clear OBD II to help diagnose issues
Store 50+ maps from COBBs vast OTS map database, or your favorite Cobb Protuner and quickly switch between them for any need
The AccessPort doubles as a multifunction gauge to monitor boost or any other live information directly from the ECU
Record multiple data channels simultaneously for in-depth evaluation of your engine performance. Stores up to 10 hours
Measure vehicle performance parameters such as 0-60 time, 60 foot, 1/4 mile ET's, and trap speeds, and digital dyno
Flat 6 Motorsports Dyno Tested:
Flat 6 Motorsports Dragy Tested (Stage 1 OTS):
Simple Installation / Uninstall:  Everything is included for the simple installation!  Intuitive on-screen instructions identify your exact vehicle and available maps. Revert your ECU to exactly as it was before with the easy to use Uninstall option from the main menu.
Trouble Codes:  Read engine trouble codes to diagnose issues. Clear them when resolved.  Prevent expensive trips to the dealership.
Gauges: Use your Accessport as a gauge to monitor boost or any other live information, directly from the ECU.
Data Logging:  Record multiple data channels simultaneously for in-depth evaluation of engine performance.  Stores up to 10 hours
Performance Measuring:  Welcome to your own performance evaluation suite! Measure 0-60 mph time, 60 foot and ¼ mile ET's. and Trap Speed.
Shift Light:  Set custom RPM warning lights for perfect shifts every time.
AP Manager:  Use your PC or Mac to manage maps, download recorded datalogs, or quickly update your Accessport.
2019 – 2022 USDM PORSCHE MACAN S POWER GAINS
Stage 1 93 Peak Gains : +9% HP, +13% TQ
Stage 1 93 Max Gains : +17% HP, +17% TQ



2020 – 2022 USDM PORSCHE MACAN GTS POWER GAINS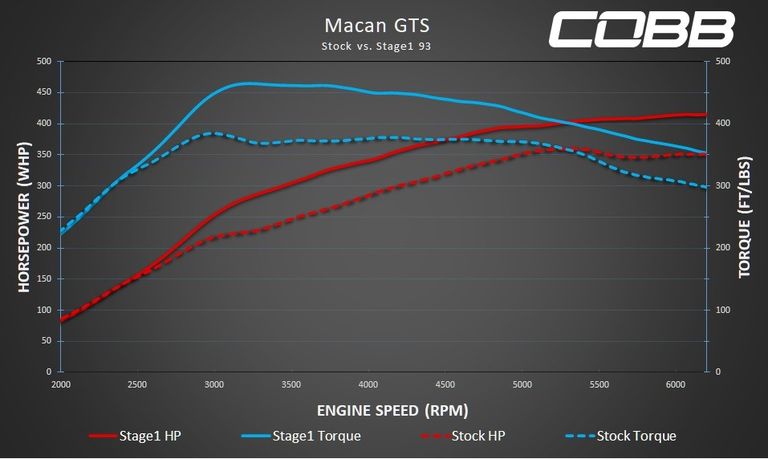 Stage 1 93 Peak Gains : +15% HP, +21% TQ
Stage 1 93 Max Gains : +26% HP, +26% TQ

2020 – 2021 USDM PORSCHE MACAN TURBO POWER GAINS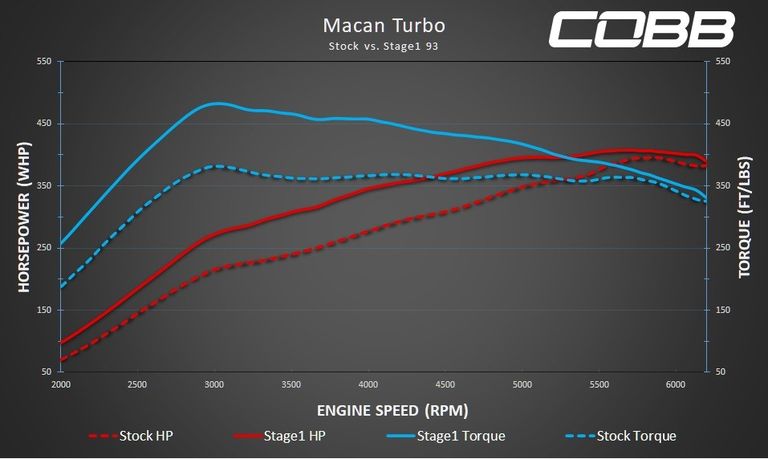 Stage 1 93 Peak Gains : +3% HP, +26% TQ
Stage 1 93 Max Gains : +36% HP, +37% TQ
COBB Tuning is an automotive engineering company dedicated to developing solutions that improve vehicle performance and the driving experience. COBB Tuning approaches design by taking the entire vehicle-platform into account as a complete system. Their ultra-high-quality products and services are professionally engineered, thoroughly tested and backed by industry leading customer service to ensure that they meet our objectives and exceed customer expectations.
Originally founded in Rockwall TX by Trey COBB in 1999, COBB Tuning is now headquartered in Austin TX with premier tuning and service facilities in Plano TX, Portland OR and Fountain Valley CA, which offer a wide range of services including; project car consultation and building, vehicle modifications, dyno tuning, general maintenance and repair.
From their initial Subaru focus, COBB Tuning has expanded its product offerings to BMW, Ford, Mazda, Porsche , Mitsubishi, Nissan and Volkswagen specializing in engine management electronics, intake tract components, turbocharged exhaust systems, turbo kits, drivetrain components and suspension components.
Cobb Tuning is a one-stop firm with an enviable set of qualified skills and the exceptional ability to design, engineer, manufacture, test and service our own products under one roof. Whether it's their state-of-the-art Accessport ECU programmer, exceptional bolt-on performance products, a professional tune, or consulting with build specialists on projects, COBB Tuning has the experience, skill and attitude to meet your specific needs.