Elephant Racing Adjustable Front Lower Control Arms - 981 Cayman / Boxster
Designed to Fit:
2013 - 2016 Porsche Cayman and Boxster (Including all 981 variants)
Product Details
Elephant Racing adjustable lower control arms provide the camber, caster and precision you need. Length adjustable similar to the factory GT3 control arms, but without the need for shims.
Quick and Easy Adjustments – No need to keep a stock of shims on hand, length is easily adjusted by rotating the center hex head. Rotate clockwise to expand or counter-clockwise to contract the arm length.Adjustments can be made within minutes. No shims to mess with. Perfect setup to make quick changes for the track.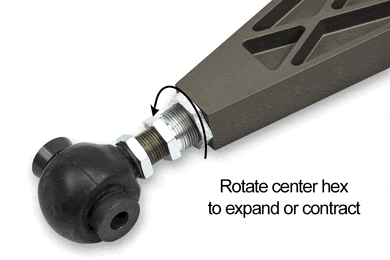 Widen Track – Use in combination with our camberplates on the front, or our adjustable length arms upper control arms on the rear to widen the track. This allows you to achieve a wider track without altering the scrub radius as happens when using wheel spacers.
Heim Joint – Our spherical bearings eliminate the deflection associated with rubber bushings. These bearings maintain stable suspension alignment, and improve feedback.
Fully Weather Sealed – Proper boots at both the ball joint and heim joint ends to keep water and contaminants out for extended life. These arms are suitable for extended road and track use..
The arms are fully rebuildable with replaceable heim and ball joints.
Camber Adjustment – Extended range of adjustment lets you achieve aggressive camber. Or you can dial it back to get a factory street alignment on lowered cars.
Caster Adjustment – Our Caster Adjuster allows you to tune this important setting that the factory left out. A must-have for cars that have extended lower control arms to correct for un-intended caster change that is caused by the extended arms. Rotate the center puck and bolt down to secure the setting.
On 996, 997, & 991 Cars:
Center puck can be also used as a wheelbase adjuster on the rear to draw the wheels back to improve weight distribution. It is a great tuning aid for adjusting out understeer.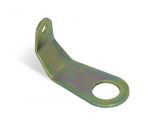 Litronic Bracket – This bracket is required for cars that are originally equipped with the litronic headlights. This adapter bracket attaches to the headlight angle sensor
About Elephant Racing 
Suspension Science, Made Easy
Elephant Racing is the established global leader in design and manufacture of performance suspension products for Porsche cars.
Silicon Valley is the new center of automotive technology, electric, and autonomous cars. Elephant Racing is the Silicon Valley approach applied to automotive suspension products. Our business model is built around web enablement, sophisticated engineering tools, and the development of advanced automotive suspension technology
ER's 10,000 sqft R&D facility is located in Santa Clara, California USA. It is fully equipped with 3D CAD, testing, simulation and modeling tools, complete auto shop, and machine tools for development and prototyping. Building on our base of performance Porsche suspension technology, our areas of development focus include the following:
Interactive and semi-active suspension control
Advanced damper technology
Automotive Suspension Mechatronics
Web enablement and Web tools
They hold patent in the category of suspension bushing design and are pursuing further patents in damper and semi-active suspension control technology.
Founded in 2002, their innovation, continuously expanding product line, dedication to customer service, and global distribution has made Elephant Racing the leader in performance suspension for Porsche cars.