GMG World Challenge - GT Exhaust Center Section (991 GT3)
Designed to fit
2013 - 2016 Porsche 911 GT3 / GT3 RS (991.1)

2017 - 2019 Porsche 911 GT3 / GT3 RS (991.2)
Note - GMG exhausts are built to order, please allow additional time for delivery. 
Product Details
The GMG Porsche 991 GT3 Center Section is a direct bolt on replacement exhaust system. Handcrafted out of US Made T304 Stainless steel and meticulously TIG welded to aerospace specifications with greater precision, the system is lighter than the factory system and surpasses the factory piece in terms of quality and performance. Weighing in at 7 pounds, the GMG exhaust system is 30 percent lighter than the factory system and features a proprietary megaphone design to improve sound and performance throughout the entire rev range. The GMG center section increases approximately 3-5 hp on average and produces deep aggressive exhaust notes at lowers revs & exotic high pitched exhaust notes at higher revs. The WC-GT Twin Tip or Single Tip Center Section is 100% emissions legal and will not void the factory warranty. It's a complete bolt-on upgrade, utilizing factory exhaust bracket locations, which will bolt up to both the stock primary mufflers while retaining the factory sport exhaust option. Hit the Sport button and listen to the beautiful exhaust note.
Key Features 
Twin 4" tips

or Single Tip 

that fill the bumper perfectly 
Horsepower and torque increased throughout power band
Produces deep aggressive, exhaust notes at lowers revs & exotic high pitched exhaust notes at higher revs, similar to the GT3 Cup and RSR
US Made T304 stainless tubing
Meticulously TIG welded throughout to aerospace specifications
Proprietary megaphone design
Brushed stainless finish
Stainless hardware and clamps
Sport button remains fully functional for everyday use
100% emissions legal - will not void warranty
Direct bolt on replacement, no removal of bumper required
Factory primary mufflers, catalyst, and exhaust flaps are all retained
Sport button remains fully functional for everyday use
Hand built to Order with individually serialized laser etched badges 
Video
About GMG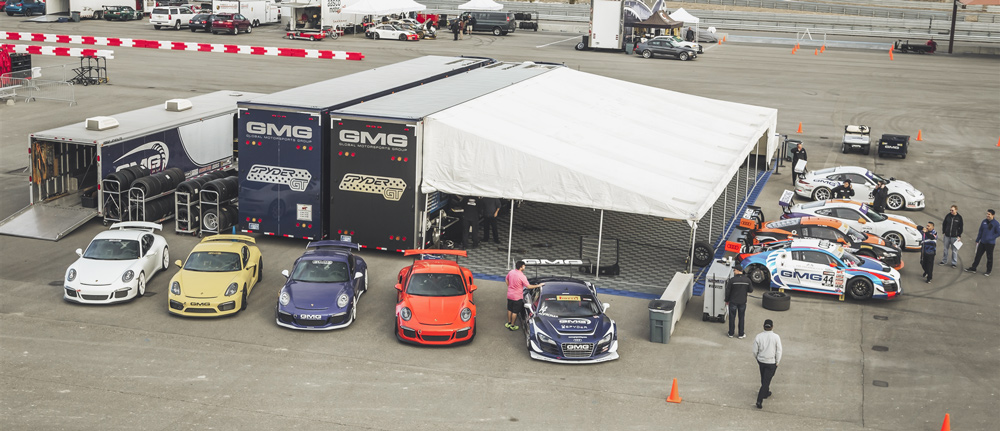 Founded in 2001, GMG has quickly established itself as North America's premier performance tuning facility. What began as a small 1200 sq. ft. shop, maintaining two race cars, has grown into a 30,000 sq. ft. state of the art performance tuning, racing and service facility located in (Orange County) Santa Ana, California. The staff, attention to detail, and passion are what make GMG the choice of professionals and enthusiasts world wide. GMG is located directly across from Porsche Motorsport North America (PMNA). This close proximity has allowed GMG to build a strong relationship with the legendary racing brand and that has helped us support our customers to the highest level possible. From Club Racing to Sebring and Daytona, GMG can take you as far as you want to go.
The team at GMG has been racing, building, and servicing European cars for several years. Our professional level of service and commitment to our customers involves providing the highest standards in quality products that the automotive tuning industry has to offer.