Injector Dynamics 1050cc Injectors (997.1 Turbo)
Designed to Fit:
2007 - 2008 Porsche 911 Turbo (Set of 6)
Product Details
The ID1050 was the first offering from Injector Dynamics, and was also the first to offer a number of innovative features to the motorsport community. This series of innovations and "firsts" have made it the most popular - and most copied - injector on the market today. With a maximum pressure capability of 7 bar and smooth response at low flow, this is a versatile injector that will be at home in many different applications. From high power high boost daily drivers, to NHRA Pro Stock Motorcycles and record setting turbo road race sedans, the ID1500 set the standard and marked the beginning of a new era in fuel injector performance.
The first injector offered with full dynamic characterization providing tuners with the data they needed to do their job properly.
The first injector to be offered in dead time matched sets.
The first high impedance high flow injector available providing stock idle and drivability on engines as small as 325cc per cylinder.
The first injector offered with the now standard "Top Hat Adapter" making it plug and play in nearly any application.
Specs:
Nominal Flow Rate – 1015cc/min @ 3.0 Bar (43.5 psi) Using Gasoline at 52 Degrees C (125 Degrees F)
Maximum Differential Fuel Pressure – 7.0 Bar (101.5 psi)
Fuel Compatibility – Compatible With All Known Fuels
Electrical Connector – USCAR
About Injector Dynamics
Technology
tech·nol·o·gy – The application of scientific knowledge for practical purposes.
Technology is more than a buzzword. It is the means to increase power, to improve drive-ability, to simplify the tuning process.
It is technology that has taken us from carbureted gas guzzlers to 1000 hp daily drivers. It is technology that allows the auto manufacturers to offer 11 second street cars.  And it is technology that will allow the motorsport community to keep up with rapid advancements made by the automobile manufacturers.
At Injector Dynamics, we are proud of our position as the technological leader, and proud of our ability to function at the same high level as the auto manufacturers.
To date, we are the only motorsport injector supplier providing emissions compliant high flow injectors to OE manufacturers.  Namely, the twin turbo Noble M600 which meets strict European emissions specifications.
We are also the only supplier to have earned the title of authorized technical partner with the largest automotive supplier in the world.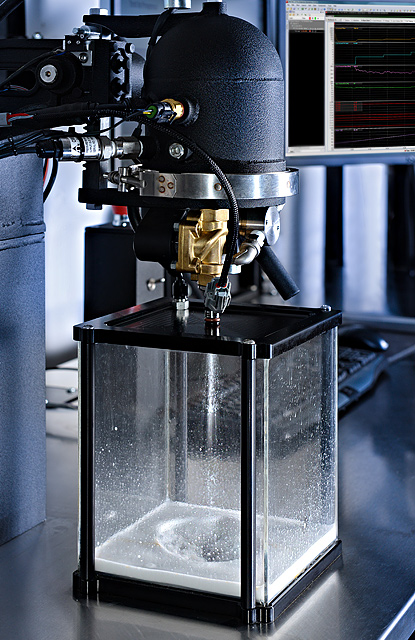 Our partnership with Bosch Motorsport serves as testament to our vast technical capabilities, and commitment to high quality, as very few have earned this distinction. This partnership provides access to the highest level of automotive technology, and it is this technology that we offer to the motorsport community through products like the ID1300, which has set the standard for high flow fuel injectors.
Our goal has been, and always will be to improve the quality of the market through the application of current, and emerging technology.  Just as the days of rebulding a carburetor in the back yard have passed, the days of testing injectors with diagnostic equipment from the 80's has also passed.
Accurate injector characterization requires accurate test equipment, and we pride ourselves on having the best in the industry.
A few of the hi-lites include:
All flow test equipment is designed and built in house
NIST traceable calibration via in house flow proover
Meets or exceeds all standards defined by SAE J1832
Pressure Capability 1 bar – 10 bar
Temperature Capability 0C – 80C
Voltage Capability  6V – 24V
Compatibility with all automotive fuels
We also offer the only hydraulic leak test bench in the industry, able to measure flow rates as low as 0.025 micro liters per minute.